Welcome to Citrus Heights Pre-School Inc.
Pre-school is the first introduction to a lifetime of learning, a journey that should start off on the right foot. Since 1970 we have been partners in providing a child-oriented environment that embraces the concept of the whole child. Our activities stimulate children's physical and intellectual development and foster social and emotional growth. Offering far more than just childcare. Our enthusiastic teachers genuinely care about your Children. They understand each child's individual developmental needs and learning styles. They take the time to help each child discover, in his or her own way, a fascinating world of play and learning.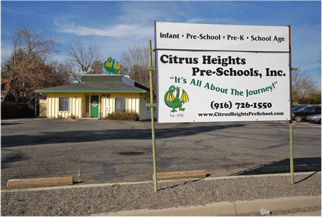 At Citrus Heights Pre-School Inc, the children experience an atmosphere where they can be comfortable and confident. Our classrooms are well equipped with appropriate learning aids and stimulating toys.
Pre-School Classes
Before and After School Programs
6 Weeks Old to 12 Years
Infant Care
Extended Care
Summer Programs
Weekly Payment Arrangements
10% Discounts For 3rd Child
Transportation is Available to Several Nearby Schools
The Perfect Balance of Learning and Play!
We Accept State and Military Funded Programs, P.C.O.E., Cal Works, Child Action
"It's All About the Journey!"
Infant • Preschool • Pre-K • School Age
Lic. # 343601588 School Age Lic. # 343601589 Preschool Lic # 343602138 Infant