Enrollment Process
We understand choosing a school for your child can be a very difficult decision. We look forward to helping you through this process.
STEP 1 School Tour: Call or email us to set up a tour time. We encourage you to bring your child with you if possible. During your tour we will walk you through our facility and highlight the different programs we offer. At this time we can answer any question you have.
STEP 2 Filling out Enrollment Packet: After the tour if you and your child select our school the enrollment process begins. An enrollment packet will be given at this time. It is important that the packet be completed in its entirety including a copy of current shot records and completed physical form signed by doctor.
STEP 3 Turning in Enrollment Forms: Once all enrollment forms are completed and turned in your child can attend immediately.
Specialized Programs for Every Age Group
INFANTS
We care for infants from six weeks old to two years old. We provide a clean, calm, safe and nurturing environment including a separate play areas for infant and toddlers so that your child may have the best atmosphere in which to learn and grow. Our teachers are fully state ECE qualified, and work diligently with your child to help ensure they are successfully reaching all of their milestones.
PRE-SCHOOL
Our preschool program is for children from two years old to kindergarten. We have daily classes of music, language and art. We also work with your child in toilet training when you and your child feel it is time.
PRE-K
We work with your child diligently to prepare them for kindergarten. Our kindergarten academic program focuses on personal needs, math, social skills, language, writing skills, fine motor skills and large motor skills; so that when your child starts kindergarten they have all the skills they need to put their best foot forward.
SCHOOL AGE
We offer transportation to area schools. After school we provide many activities to keep the young mind active including arts and crafts, outside time on a creative playground, and a calm helpful environment in which to do homework.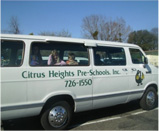 We look forward to serving you and your children!